High-tech and high-tech | After the world's first vehicle-mounted intelligent UAV system, how does Chengdu Times Starlight jump higher?
Time: 2022-07-05 From: Times Starlight Views: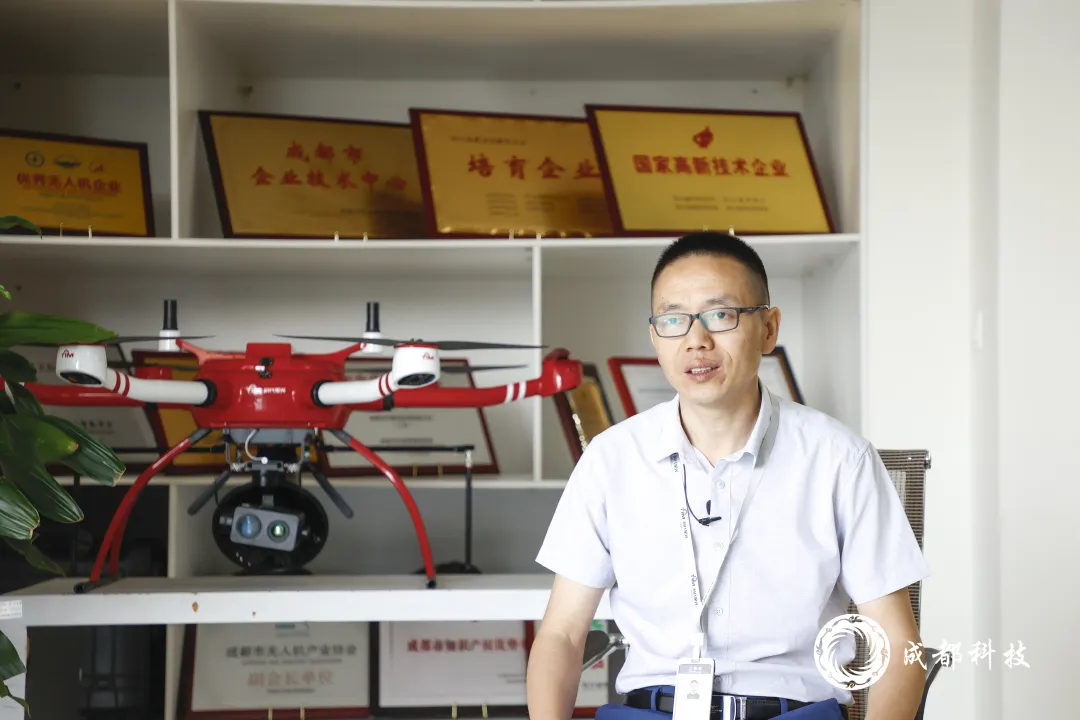 At present, with the rapid development of electronics, communication, intelligence and other technologies, the development of UAV technology has also entered the fast lane. In Chengdu, not only was the first domestic company listed on the market with drones as its main business, but also the aggregation effect of related industrial chains was emerging. Especially in the field of industrial drones, more and more high-tech enterprises are accelerating their "budding talents", and Chengdu Times Starlight Technology Co., Ltd. is one of them.
Walking into Chengdu Times Starlight Technology Co., Ltd. (hereinafter referred to as "Times Starlight") located at No. 3 Tianhong Road, High-tech West District, you can see a whole patent display wall, and this is only a part of the patents obtained by Times Starlight. On the display stand, the plaque of "High-tech Enterprise" is particularly conspicuous - under the bright red torch, the characters "National High-tech Enterprise" are engraved.
Riding on the "Dongfeng" of the development of the UAV industry in Chengdu, Times Star is riding the momentum and running out of the "acceleration" of development.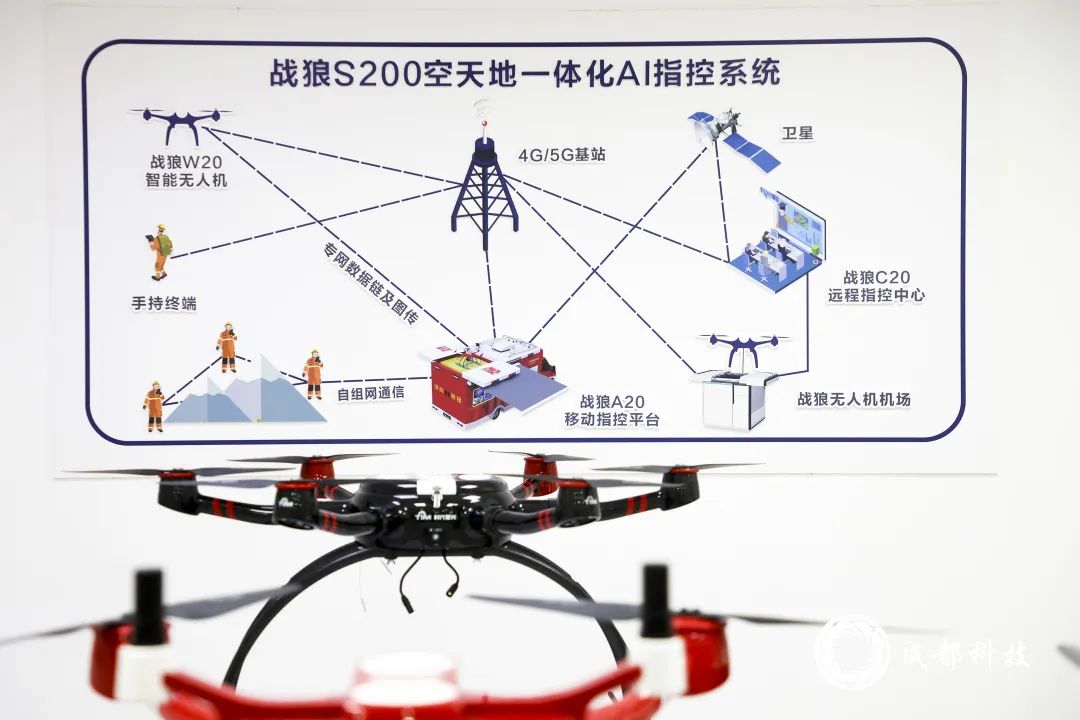 An "accidental" opportunity to successfully "cross-border" drone track
A few days ago, at 17:00 on June 1, an earthquake of magnitude 6.1 occurred in Lushan County, Ya'an City; three minutes later, another earthquake of magnitude 4.5 occurred in Baoxing County. The earthquake affected people's hearts. After the earthquake, the Sichuan Fire Rescue Corps responded immediately and quickly assembled rescue forces to set off for the epicenter. Among the teams that set out for the rescue at the first time, the "Sichuan Fire Communication Volunteer Team" of Times Starlight's Sichuan Fire Rescue Corps was also among them.
"Emergency rescue is one of the important areas of application of our drone products, which can provide rescue forces with the 'first picture' of the scene." Chen Jian, sales director of Chengdu Times Starlight Technology Co., Ltd. Sichuan Fire Communication Volunteer Team", equipped with fire communication support vehicles, Zhanlang UAV detection system, wireless ad hoc network image transmission system, can provide communication support for emergency rescue around the clock, and has become an important strategic support force in the Sichuan fire protection system .
Behind this is the embodiment of the hard core technology strength of Times Starlight. In fact, Times Starlight, established in 2003, was mainly engaged in the research and development and production of digital TV and wireless image transmission system products at the beginning of its establishment. By chance, I forged an "indissoluble bond" with drones.
"In 2014, State Grid had a cross-river power wiring project in Ganzi, Sichuan, which required the use of drones, but due to the harsh environment, the originally scheduled drones could not work properly." Chen Jian recalled, the company's chairman Peng Yanping Taking advantage of the technological advantages of Times Star in the field of wireless image transmission over the years, we immediately organized the R&D department to carry out the project. Assembled an electric wireline drone."
Keenly aware of the blue ocean market of industrial drones, the following year, Times Star officially embarked on the road of independent research and development of industrial drones. From the research and development of industrial-grade multi-rotor drones, to the launch of the first-generation Warhawk drone system, to the development of the world's first "air-space-ground integrated AI command system", in a few years, Times Star has rapidly developed into industrial unmanned aerial vehicles. Stand firm on this track.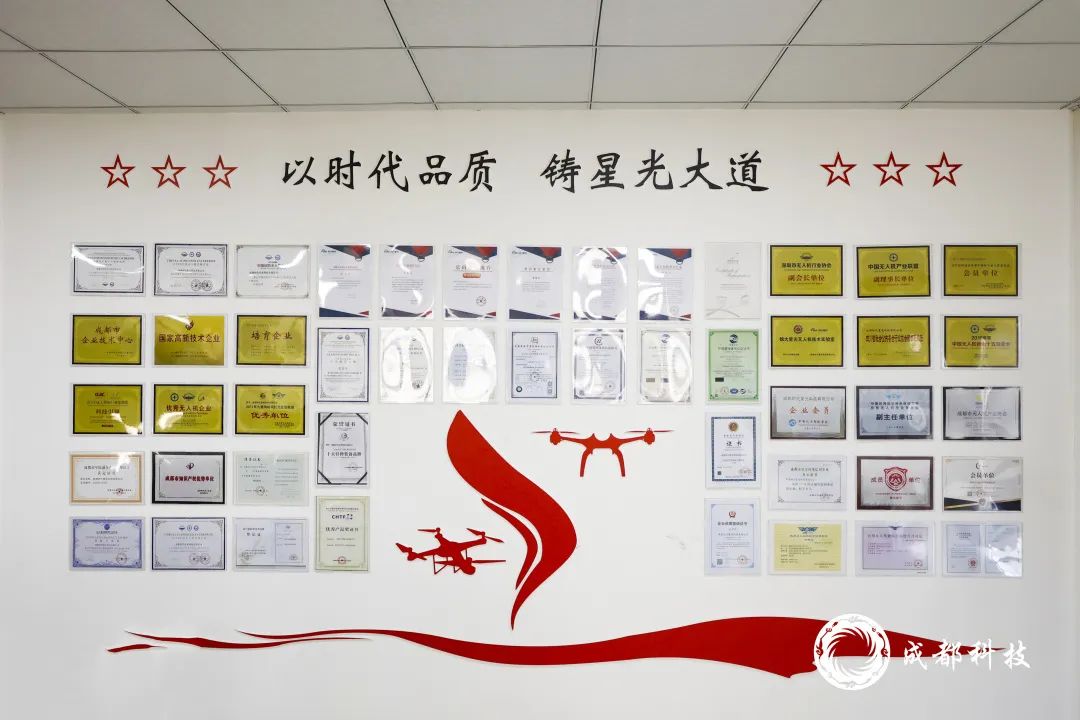 Two high-level reviews have been completed, and the "confidence" comes from the strength of hard-core technology
At present, Times Starlight has obtained hundreds of patented technologies and software copyrights, and has launched dozens of products such as wireless image transmission, drones and communication command vehicles in the fields of wireless communication and artificial intelligence. It has been widely used in the fields of agriculture, forestry and plant protection.
Especially in emergency support, Times Starlight has participated in hundreds of emergency support and drills such as the Tianjin explosion, the Jiuzhaigou earthquake, and the Wenchuan debris flow. The latest Wolf Warrior UAV launched by it can resist strong wind and low temperature, and can shuttle freely to complete tasks even in the harsh environment of minus 40 degrees.
It is particularly worth mentioning that in 2020, Times Starlight successfully developed the world's first "air-space-ground integrated AI command and control system", filling the technical gap of my country's "vehicle-mounted intelligent drone". "Relying on our self-developed core technologies such as flight platform, flight control system, wireless image transmission, data link, and command and control system software, especially the vehicle-mounted intelligent UAV system, the intelligence of our UAV has been greatly improved!" Chen Jian introduced that medium and large UAVs with a diameter of more than 1.7 meters and a take-off weight of more than 18 kg can take off and land automatically on a mobile command vehicle, and can realize fully automatic battery replacement, charging, recovery and locked transportation, and integrate air and sky. , to a variety of communication means, to achieve multi-dimensional integrated command and control, and further expand the application scenarios.
Relying on hard-core technology research and development strength, as early as 2014, Times Starlight successfully completed the "National High-tech Enterprise" certification, and has passed the review twice. In the past few years, Times Starlight has also enjoyed a lot of convenience and tax benefits.
"The identification of high-tech enterprises is a directional policy that leads enterprises to take the road of independent innovation. Enterprises will seize the opportunity to usher in the best opportunity for leapfrog development." In Chen Jian's view, obtaining high-tech enterprise certification is also It can prove that the company has strong technical strength in this field, help the company establish a corporate brand image, and form a strong appeal for attracting outstanding talents.
In order to further enhance the technical strength of the enterprise, Times Star also applied for a number of related science and technology projects of the Chengdu Science and Technology Bureau. Chen Jian bluntly said that for R&D technology companies like Times Starlight, such policy support has solved some of the financial pressure for the company, allowing companies to concentrate on research and development without worries, and improve their technical hard power. Just this year, Times Star was successfully shortlisted for the Ministry of Industry and Information Technology's "Artificial Intelligence Unveiled List" project, becoming a strong competitor of intelligent drones in the industry.
Expanding new growth points will increase the launch of military drones
At present, Chengdu is accelerating the action of building a circle and strengthening the chain. It has defined 20 industrial chains, and carried out the overall collaborative cultivation of the upstream and downstream of the industrial chain, as well as the left and right banks. Industrial drones are one of them. This also brings new opportunities for technology companies like Times Starlight.
"Chengdu is an important national aviation industry base, with outstanding advantages in the electronic information industry. Relying on a solid aviation industry foundation, as well as strong talent and industrial advantages, it has formed a complete drone R&D and manufacturing, flight control system, and supporting operation services. An integrated and perfect industrial chain." In Chen Jian's view, this means greater opportunities. "Data predicts that the scale of my country's industrial drone market will further expand, and Chengdu's industrial drone industry has great potential. As a company rooted in Chengdu, Businesses, we have full confidence in the future."
The stars of the times are ready to go. In order to further expand the product application field, Times Starlight has completed the military qualification certification before, and it is one of the few private enterprises that has the capability of independent research and development of military-grade UAV system technology. Machine application field "emerged".
In March of this year, Times Starlight announced the completion of tens of millions of yuan in Series A financing and entered a new stage of development. "In the past 18 years, Times Starlight has been relying on its own technology and its own funds to develop steadily." Chen Jian revealed that after the completion of this round of financing, Times Starlight will continue to increase enterprise technology research and development efforts as always, in the industrial-level intelligent The field of human-machine systems and military UAVs has developed in depth, promoting vehicle-mounted intelligent UAVs and air-ground integration AI command and control technology to a "new level". A "star of the times" in the industrial drone industry is rising...